FilingRamp - From Faster Filings to Much, Much More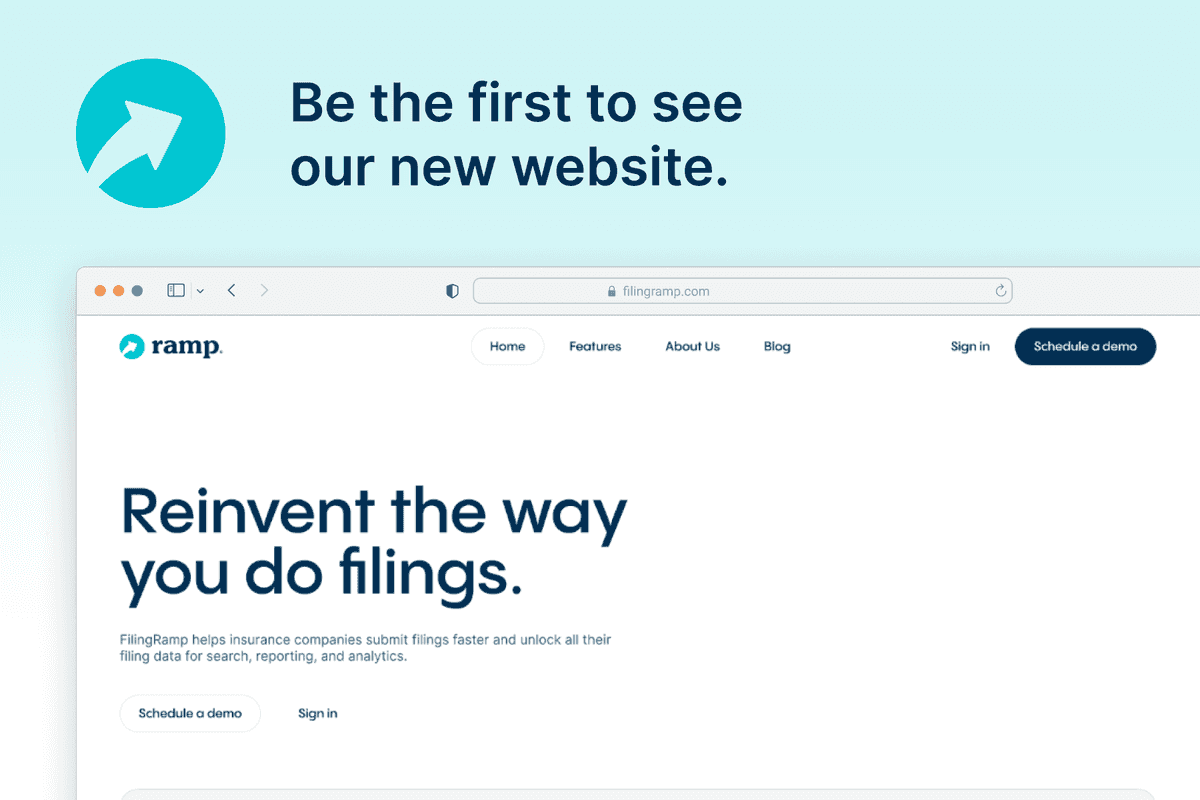 The Beginnings
When FilingRamp launched in 2018, the mission was clear: we were a software application out to tackle insurance filings in a completely new way. The process at the time had much room for improvement and we wanted to pioneer the change—and our site punctuated this.
The Secret Sauce
Our modern, mobile, genuinely industry-disrupting software could work alongside SERFF thanks to our real-time SERFF API integration. This allowed potential customers to really understand we were something new that could work in tandem with the usual way the industry ticks, while improving it. It didn't feel totally intimidating to adopt, it was actually just a more modern and efficient way to do what has always been done. Because of this, our tagline "Reinvent the way you do filings" was fitting.
In addition to the technology aspect of FilingRamp, our team was coupled with deep industry experience, creating that perfect cocktail of both personal touch and technological advancements. As an API-first company with a motto of "the data is yours", we stuck out as being very different from our competitors.
Growth
The application steadily grew as the direct result of some amazing early customers who immediately realized the difference in FilingRamp to other products in the market. Like any good company does, we valued not only their business, but their feedback - good and bad. Our team absorbed all information given during our regular customer touchpoint calls and learned more about the common pain points the industry experienced. This knowledge became power and we put it to good use.
A New Direction
The feedback inspired us. FilingRamp pivoted to make its mission to expand outward from the filing process and tackle inefficiencies occuring before and after the filing process as well. There were many potholes insurance professionals were facing, and we knew we could find solutions that could revolutionize the industry from inside out.
Now our path is not only enhancing the filings process, but to drive the insurance industry forward and into the new technological age, taking full advantage of AI, APIs, integrations, data, and much more.
Revving Up
Now that our goals and mission for how our software serves our customers has become bolder, our vision for the future has become brighter than ever. And it only felt right that we make a few changes—like administering a complete overhaul of our landing page. We're excited for what's next and we want everyone who visits us at FilingRamp to really understand exactly why.
So, we've been hard at work to tell our story and showcase all that is new.
The New Landing Page
The new landing page (www.filingramp.com) reflects FilingRamp's arrival as the insurance industry's top filing software platform.
More efficient filings are now just one of our many offerings. We now offer a suite of support in multiple avenues for insurance companies and our new landing page emphasizes our growing list of features that enhance workflow, product development, and the transfer of data from FilingRamp to other software companies already use.
The new landing page will also shed more light on who the company is and what direction it's going in with a dedicated About Us page, Blog, and Newsletter sections.
A New Era
We are building software that modernizes how the insurance industry works and strives to create a supportive community around it through active communication and new innovations. We are thrilled for FilingRamp's next phase in venturing into a more holistic suite of features for our customers and look forward to sharing more with you all as we continue to grow and develop.