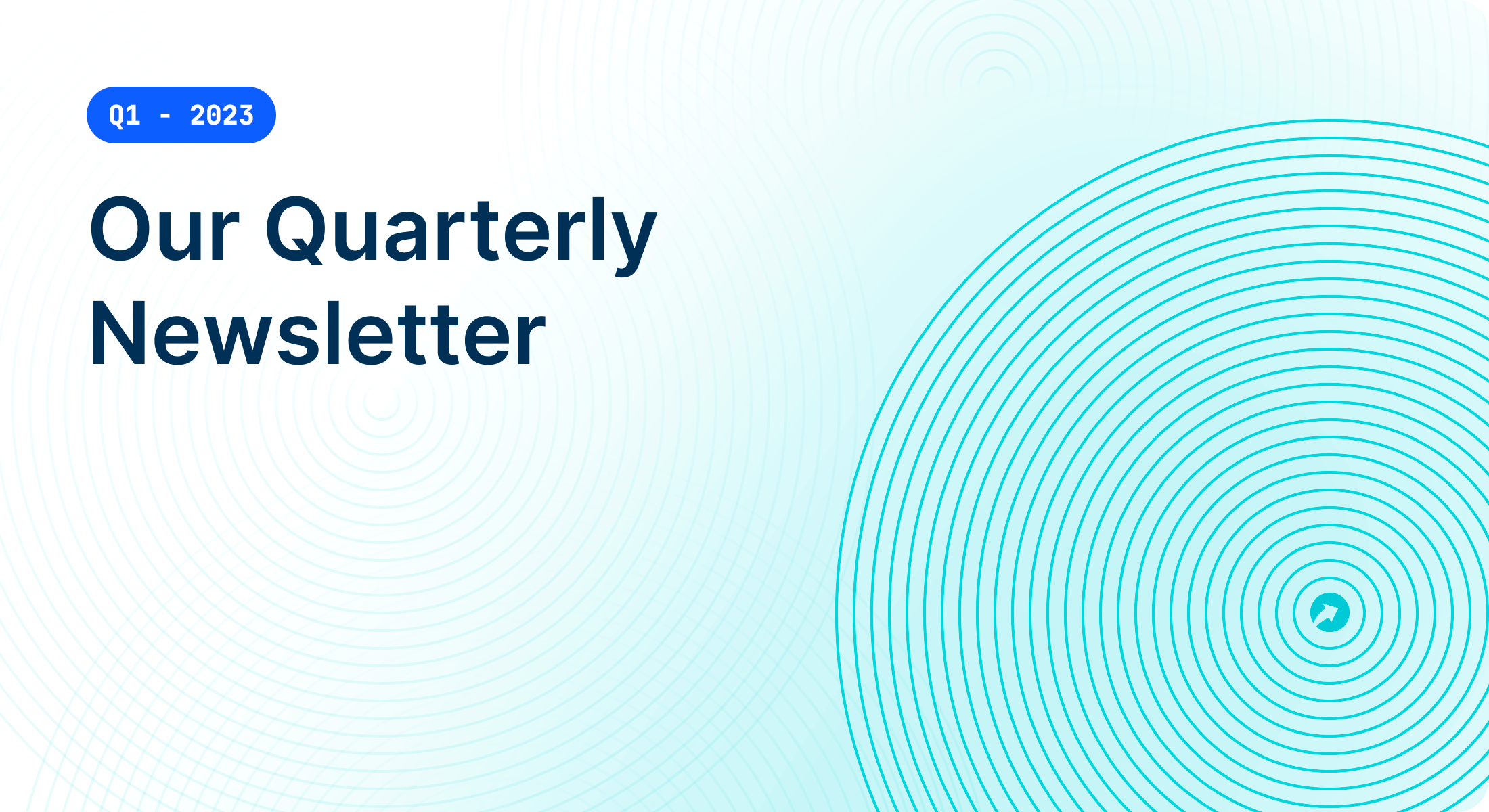 Our Quarterly Newsletter - Q1 2023
Let's Talk About Impact
We're kicking off 2023 in fashion by launching our quarterly report and you're our special guest. We'll send news, features, and innovations delivered directly to your inbox.
FilingRamp's Teams Integration is a Hit!
This past fall, FilingRamp announced its integration with Microsoft Teams. Since then, many FilingRamp customers have elected to turn the Teams integration on, which we hoped would become a valuable addition to our application.
Happily, the feedback from customers confirmed just that—it has been overwhelmingly positive. One of the best parts? Integrating Teams is easy and free!
FilingRamp's integration team connects with our customers' IT to get it set up and once it's turned on, companies receive:
Live filing updates on their FilingRamp Teams Channel
Direct messages when assigned objections
Direct messages whenever they're mentioned FilingRamp's Chat feature
We're happy to share that we have very exciting expansions of the Teams integration coming out soon.
What can we say? We know a good thing when we see one!
Import Your Data From Oracle Tracker With FilingRamp
Did you know that FilingRamp can import data from Oracle Tracker?
Some history: Oracle Tracker once had a 2-way SERFF API integration until Oracle stopped supporting it years ago.
This left a lot of Oracle's customers high and dry with not only filings—but non-SERFF filings data as well—stuck in Tracker.
Luckily, we have the solution. FilingRamp can import all filings, attachments, and any non-SERFF metadata from Tracker into our software. (You read that right!) This allows companies to no longer need IT support for Tracker and to finally say goodbye to it once and for all.
Sounds appealing? Get your spring cleaning started and contact us to learn more today. Read more about this on our blog.
Your Questions Answered
Have some questions for us? Read our FAQs for all the clarifications you need.
We've Teamed Up with Verisk
We are thrilled about our Verisk's Mozart Form Composer Integration. Discover more about how our partnership positively impacts FilingRamp users here.

It keeps getting better! FilingRamp is constantly evolving and that means new features and enhancements are always right around the corner.
Library Version 2
We're completely refactoring our forms/rates/rules library to offer significantly more functionality, such as:
•Word versions
•Previous version linking
•Bulk entry of custom data
•CSV/JSON export

Reminders and Expanded Chat Functionality
Think of this as a digital sticky note where you can:
•Add reminders to anything (filings, objections, etc.)
•Link members of your team to them
-Document reason for considering a filing exempt
-Mention someone on filing that they need to follow-up on
•See all your active/closed reminders and chat on the dashboard

Expanded Roles
We're designing more visual control for our users so you can determine which filings and features your users can see.

More Analytics
Make time management and planning easier by adding "average time for approval" and "average response time" analytics to every single project. And this is just the beginning. We're continuing to create robust analytics to further advance our software.

New Integrations
To add to our Microsoft Teams Integration and Slack Integration, we have plenty more we're in the process of offering our users—so keep an eye out to see what's next up our sleeve.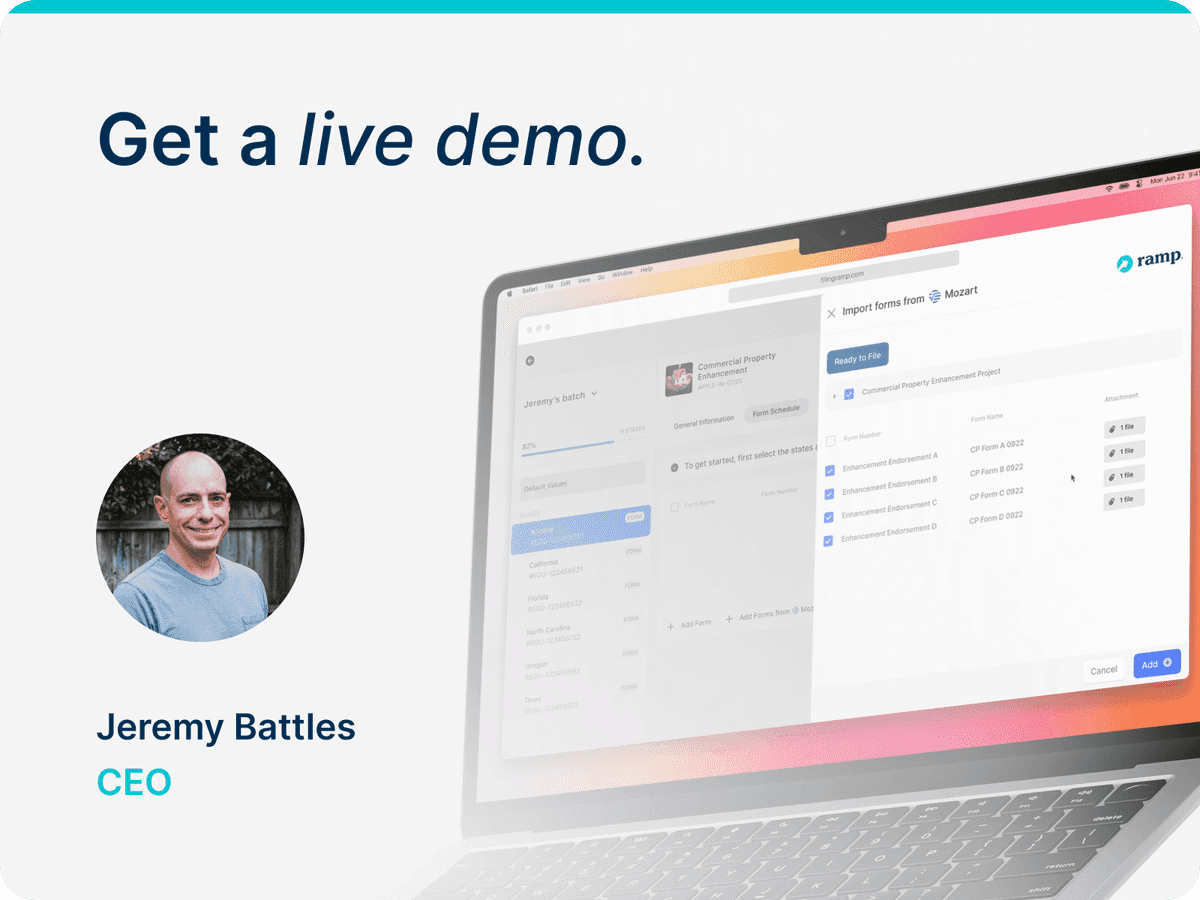 Want an early look? Let's chat.
When you schedule a FilingRamp demo with our team, you receive a full demo or current in-production functionality. In addition, you'll:
See in-development features
Learn about upcoming integrations
Meet Jeremy and Tom, two nerdy guys who are passionate about solving insurance compliance inefficiencies with modern software
Want to just dip your toes in first?
We're always up for a quick informative call too. Get in touch today!
Upcoming Events
We're packing our bags and have a full schedule of events this spring. Come say hi! We'd love have a chance to chat in person.
Target Markets 2023 Mid-Year Meeting in Boston
May 1-3, 2023
Insurtech Insights in New York
June 7-8, 2023